About Quarry Hill Park Animal Hospital | Rochester MN Veterinarian
Dr. Gary Noser opened Quarry Hill Park Animal Hospital in 1978 for the medical and surgical treatment of companion animals. Prior to opening his hospital, Dr. Noser graduated from the University of Minnesota College of Veterinary Medicine in 1972, then completed a one year internship at ASPCA Henry Bergh Memorial Hospital in New York City. After completing a three year surgical residency at the University of Michigan College of Veterinary Medicine, Dr. Noser and his wife Joan decided to return to both their hometowns and open Quarry Hill Park Animal Hospital, remodeling an abandoned gas station on 11 th Ave NE. Mary Jette was their first employee. In 1992, the building underwent a major renovation, both adding on and moving into the unused space.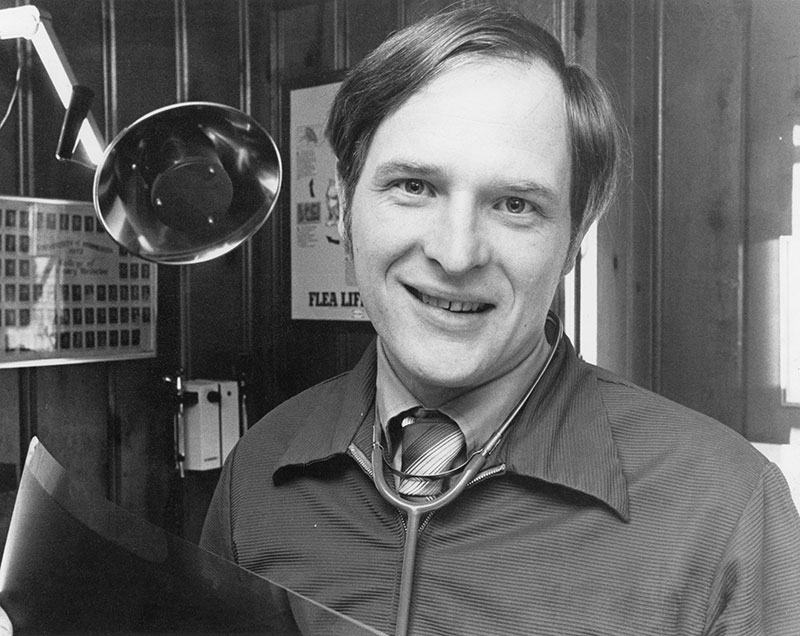 Dr. Gary Noser.
In January 2007, Dr. Noser sold the hospital to his daughter-in- law, Dr. Ann Anderson. Dr. Anderson and Josh Noser continue to own and manage the hospital. Dr. Noser officially retired from practice in May 2008, when Dr. Tom Radke joined the practice full time. At the end of 2011, Dr. Hoffman officially retired from practice. Dr. Hoffman was a long time veterinarian in Rochester and at Quarry Hill, and was also a vet school classmate of Dr. Noser. Dr. Lee, who had been working at Quarry Hill part time since 1997, began working full time when Dr. Hoffman retired. In November 2014, Dr. Baihly sold her building to the Flats on 3 rd development, and merged Third Ave Pet Hospital into Quarry Hill, allowing her to reduce her work load, but continue practicing medicine.
With a growing practice and no ability to expand at the original location, we sought options for a bigger facility. The first consideration was the neighboring Community Clothesline building, but it became clear that renovation and expansion costs at this location were going to be similar to construction of a whole new building. While remaining at the same location would have been nice, the advantage of having a purpose built new building had more advantages. At the same time, we learned that Dr. Emrich was interested in selling his practice, Assisi Drive Animal Hospital. On November 30, 2016, Assisi Drive Animal Hospital became part of Quarry Hill Park Animal Hospital.
AAHA Accreditation
Quarry Hill Park Animal Hospital is an accredited member of the American Animal Hospital Association (AAHA). Established in 1933, AAHA is well-known among veterinarians and pet owners for its high standards in veterinary practices and quality pet care. AAHA is the only organization that accredits animal hospitals throughout the U.S. and Canada. Approximately 3,000 AAHA-accredited hospitals voluntarily choose to be evaluated on 900 standards in the following areas: quality of care, diagnostic and pharmacy, management, medical records, and facility. Consultants regularly visit these hospitals to ensure compliance with AAHA's Standards of Accreditation for services and facilities. Accreditation helps veterinary hospitals stay on the leading edge of veterinary medicine and provide the quality and range of services you and your pet deserve.